In order to maintain a successful plastic surgery practice in today's market, it is crucial to have a solid SEO strategy. With more and more plastic surgery practices popping up all over the place, the competition for patients is becoming increasingly fierce. By optimizing your plastic surgeon website for search engines, you can make sure that your practice is getting seen by leads who are then more likely to convert into patients.
What is Plastic Surgery SEO?
Search engine optimization or SEO, are strategies that marketers do in order for Google to effectively index and understand a website.
When Google has a clear understanding of your website's content, who your target audience is, where you're located, and what services you offer; it can more easily match your website as a relevant result to people who are actively searching for what you have to offer. As a result, SEO is a key factor in driving organic traffic to your website and should be utilized to ensure your business is being seen by as many potential patients as possible!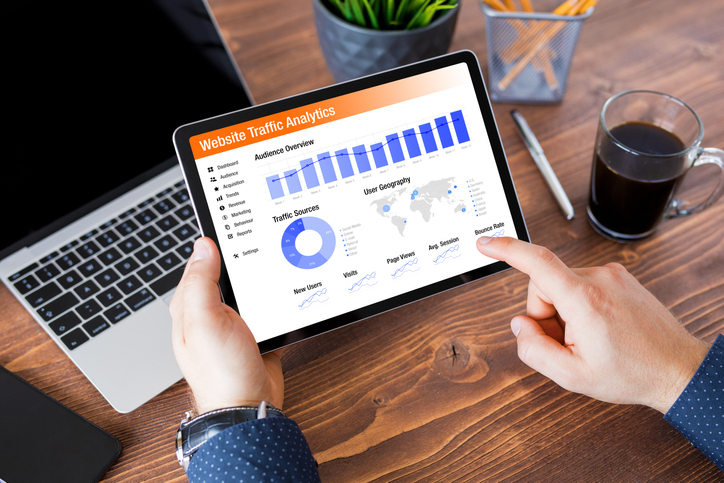 Google's algorithms are designed to give users the best possible answers to their questions and online searches. That's why Google has become the most popular search engine, leaving other engines like Yahoo and Bing in the dust.
If you want your plastic surgery practice to benefit from Google's algorithm, you need to make sure Google knows what your practice is all about. That's where plastic surgery SEO comes in.
Why You Should Be Doing SEO
When it comes to your plastic surgery practice, a strong SEO foundation is key to its long-term success. That's because SEO is the bridge between you and all of the potential patients searching for a plastic surgeon.
SEO works by someone typing in a query like "plastic surgeons near me" or "rhinoplasty cost in Los Angeles" into a search engine like Google. If your website has the relevant information and your SEO is up to par, your plastic surgery website will appear in the search results.
If your SEO is done correctly, your website will appear at the top of the search results page, ahead of your competitors. This exposure translates into more leads, customers, and successful procedures at your practice.
SEO Tips for Plastic Surgeons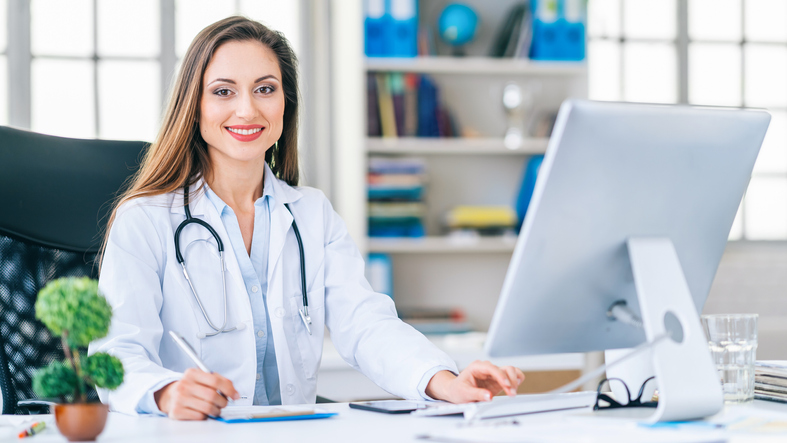 If you want to improve your plastic surgery practice's SEO, start with these 9 effective strategies. Of course, there are many more ways to optimize your website but these tips are a great place to start building a strong online presence that will attract the right web visitors to your practice.
Do an SEO audit of your website and optimize your pages.
Your website is your bread and butter in this industry – but that doesn't mean that promoting it comes easy. You have to actively work to make sure it's optimized for SEO so that potential clients can easily find you online.
For plastic surgery in particular, people want to do a lot of research before they take the plunge and visit a clinic. That means there are plenty of opportunities for you to create content that they can interact with. This can be in the form of "before and after" photos of your procedures, blogs about the pros and cons of plastic surgery, or articles detailing the cost of different procedures.

If you're looking to attract more visitors to your website and improve your SEO rankings, one of the best things you can do is answer common questions related to your treatments and surgeries using SEO friendly terms. By adding a strong section of FAQs to your existing pages, you'll not only be providing valuable information to potential patients, but you'll also be helping to improve the overall SEO of those pages.
Use a geo-targeted SEO strategy to attract local patients.
Most people are not going to look for a plastic surgeon outside of their local area. For that reason, it's imperative that you use local SEO strategies when optimizing your site pages. This allows potential patients in your area to find you easily when they search for plastic surgeons in their city or region.
Some ways you can do this include working the name of your city or region into the copy on your website, as well as in title tags, meta descriptions, internal links, photo file names and more.

Remember to claim your Google My Business Listing – it's a key step in getting your business to appear on Google Maps and improve your search engine ranking. By showing potential patients that you're nearby, you're more likely to book consults that turn into procedures.
Have an amazing and informative plastic surgery blog.
Did you know that having a blog on your website can increase traffic by nearly 80%? People will often search the internet for answers to their questions, and if your blog is set up with proper SEO (search engine optimization), it has the potential to rank high in the search results. If you can provide answers to people's questions on your blog, they are more likely to click on your website for information.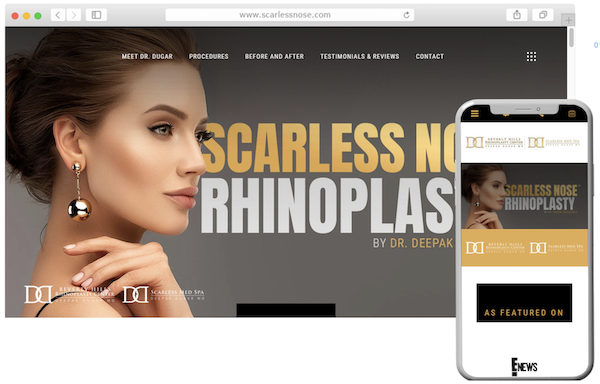 For example, Dr. Dugar's site ranks #1 for "best nose job doctor in the world" because of this

blog article written by us here at Redux Labs

.

People consume an average of 11 pieces of content before they take action. So while they're on your blog getting the answer to their initial question, they're likely to browse the other content on your site. The longer people stay on your site, the better your search engine rankings will be.

Google tracks how long users stay on your website after clicking on one of your links. The longer they stay, the more Google recognizes that your website must be providing helpful, useful information. And since Google is all about delivering the best information to its users, they'll push your site rankings higher because it can see that your website is useful to visitors.

You can also show Google that you take an interest in keeping your website up to date and providing current information to your visitors by regularly posting new blogs. This way, Google will see that you're constantly working to improve your site and making an effort to provide fresh content.

Google loves fresh, high-quality content. If you post new content regularly, you'll see your search engine results improve. Old, outdated content can hurt your ranking, so it's important to keep your site up-to-date.
Your website must be responsive and mobile-friendly.
Not only are nearly 70% of all internet searches now conducted on a mobile device, but Google will also prioritize mobile-friendly sites higher in search engine results. This means that if your website is mobile-friendly, it will look good on any device. So if a patient is searching for cosmetic surgery on their phone, they can easily find and use your site.
Most of the time, the first website to capture the prospect's attention is usually the one to earn their business. Having a mobile-friendly site gives you a big advantage in reaching potential customers and winning their business.
Be active on social media.
Having a strong social media presence is key for any plastic surgery practice. Your business is all about visuals and you want to show off your amazing work to attract more clients. Free advertising on platforms like Facebook and Instagram is the best way to do this.
Post before and after photos, videos, or even testimonials from past patients to show off the great work you do!

How does having a social media presence tie into SEO for plastic surgeons? Backlinks. Every high-quality link you have on the internet that leads back to your site gives more SEO value.

High quality links are the key here – don't ever buy black hat backlinks, which are essentially fake links that go nowhere but attempt to trick Google into thinking you have lots of links to your site. If Google catches you using black hat shenanigans, they'll blacklist your site and you'll lose all the SEO work and momentum you've built. 
Harness the power of YouTube marketing.
By having an active YouTube channel for your plastic surgery clinic, you get a small advantage in Google's search engine optimization algorithm. In addition, when people are researching plastic surgery online, your videos will appear near the top of the search results if you use the right keywords and phrases. Make sure to include a link to your website in the YouTube description so people can easily find your site. 
Build an effective keywords list.
Starting with professional keyword research is the best way to ensure that you're not wasting time and money guessing what people in your area are searching for when it comes to plastic surgery. It's possible that in your area, the keyword phrase "breast augmentation" isn't as popular as "facelifts" or "tummy tucks", and the only way to know for sure is by doing extensive keyword research from a reputable source.
Make sure your website loads fast
A slow-loading website isn't just frustrating to your visitors, it will also hurt your plastic surgery practice's ranking on search engines like Google. Page load speed is one of the things Google takes into account when ranking websites for SEO. If your website is slow-loading now, there are a lot of options when it comes to improving your site speed. Have a conversation with one of our experts who can show you how to improve your site speed and fix other SEO issues.
Keep your website visitors engaged.
Getting people to visit your site is one thing, but you need to make sure you're giving them a reason to stay and engage with your content. Add calls-to-action that encourage website visitors to do something, such as book a consultation, download a report, or claim a free gift.
Don't make them pick up the phone to interact with you! Picking up the phone and calling is actually one of the last things consumers do before making a purchase. Instead, give them other ways to interact with your site so they can get to know your company better and feel more comfortable in doing business with you.

Provide contact forms, live chat features, or even a simple e-newsletter sign-up form. By giving website visitors multiple ways to engage with your brand, you'll be more likely to convert them into paying customers down the line.

It's important to capture email addresses from as many visitors to your site as possible, and one way to do this is by offering them something of value – like a physical product sample, in exchange for their email address. Virtual products, like a 10-step skincare guide from your top surgeon, can also be a big hit with customers – and they cost you nothing to make or deliver.

"Freemiums" like this can help you collect valuable email addresses that you can use to market to your customers until they're ready to buy. Plastic surgery is a big purchase, so it's important to keep potential customers engaged until they're ready to make a decision.
The average person doesn't just wake up one day and decide to get plastic surgery. It's a huge decision that can take months or even years from the initial thought to when they finally take action and book a consultation.
By collecting email addresses from everyone who visits your website, you can stay in touch with them and send them helpful information as they're making their decision. That way, you'll be top of mind when they're finally ready to buy.
Whether you need help in SEO, PPC or revamping your website design, our team here at Redux Labs will be happy to help you. Contact us today to request a free marketing consultation.